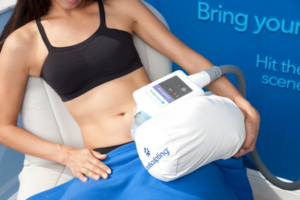 CoolSculpting® may sound too good to be true but believe us, it's both good and true! CoolSculpting® is a non-surgical fat reduction and body contouring treatment that we offer at 3 Leaf Med Spa in Chattanooga, TN. With something as unbelievable as CoolSculpting, it's only natural to have a few questions. So, without further adieu, let's answer some of the questions you ask most about CoolSculpting®.
What areas of the body does CoolSculpting

®

treat?
CoolSculpting® is FDA-cleared to eliminate stubborn fat from 9 areas of the body. These include:
Under the jawline
Under the chin (double chin and neck)
Upper arms
Back fat
Bra fat
Flank area (love handles)
Abdomen
Thighs
Under the buttocks (banana roll)
Does CoolSculpting

®

help with weight loss?
To be clear, CoolSculpting® helps with fat loss by freezing away stubborn pockets of excess fat from your body. However, CoolSculpting® is not a weight-loss treatment, though you may slim down or lose some weight afterward. Additionally, it is not intended to be a substitute for a healthy diet and exercise. It is a tool to eliminate diet and exercise-resistant fat pockets.
How much does CoolSculpting

®

cost?
A question we get a lot is, how much is CoolSculpting®? Every patient receives a unique treatment plan based on factors like their body's distribution of fat and their desired results. A personalized plan, including cost, will be created for you at a private, complimentary consultation appointment. During this consultation, you will receive a full-body assessment and one of our CoolSculpting® expert technicians will be available to answer any questions you may have. CoolSculpting® treatments start at $750, and most treatment plans for a particular area fall between $2,000 and $4,000.
Pro tip: Be sure to follow us on Facebook and Instagram, sign up to receive our monthly newsletter (join the list in our website footer), and regularly visit our blog to take advantage of all our CoolSculpting discounts, specials, and events.
Does it

work?
Research points towards CoolSculpting® being an effective treatment for removing some areas of fat. A 2020 study found that cryolipolysis (the technology used in CoolSculpting®) with new and better-fitting applicators, is safe, fast, and effective for the reduction of excessive fat tissue on the abdomen, back, flank, and extremities. With CoolSculpting®, you can expect to lose between 20 and 80% of the fat cells, depending on your targeted treatment area.
If you're not convinced yet that CoolSculpting works, check out the phenomenal before and afters in this CoolSculpting® abdomen results progression.
Is CoolSculpting® painful? 
During the treatment, you may feel cold, pulling, and other sensations at the treatment site. These sensations subside as the area becomes numb. Following the procedure, your skin in the treated area may feel tingly and tender. It may also be slightly swollen and red. However, many people can leave a session and return to whatever they would normally do.
In the days following your treatment, some areas may feel tender to the touch and mildly bloated or swollen, while others may simply feel numb. Occasionally bruising happens the next day, typically due to the suction action of the machine and from the massage that follows each session. After a few days or weeks, though, any discomfort (including tenderness and bruising) should subside.
How long does it take to see

results?
The results from CoolSculpting® are not instantaneous, though the treatments don't take long and require little to no downtime. Results also vary depending on the patient and treated area(s). Most patients see results in 2 to 4 months, with full results achieved within 12 weeks of the treatment session. However, many patients require more than one treatment session to achieve their desired results.
How do I find a provider for

CoolSculpting® near me?
3 Leaf Med Spa proudly provides CoolSculpting® services in the Chattanooga, TN area and surrounding communities, including East Brainerd, Red Bank, Hixson, Signal Mountain, and Lookout Mountain. If you're outside of the Chattanooga area, you can use CoolSculpting®'s Find a Center tool to locate a provider near you. 
For more information about what to expect and how to plan ahead for treatment, check out our CoolSculpting Planning Guide.
To schedule your free CoolSculpting consultation, call 423.509.5630.