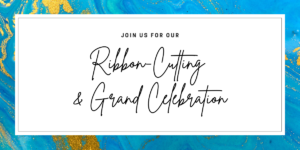 Please join us Thursday, June 10, 2021, for our Ribbon-Cutting Ceremony & Grand Celebration!
Ribbon-Cutting • 11a – noon
Festivities begin with a Chattanooga Area Chamber of Commerce Ribbon-Cutting and reception from 11a to noon. During this time, attendees can mix, mingle and enjoy refreshments.
Grand Celebration • 4 – 6:30p
Then, the excitement continues from 4 to 6:30p with our Grand Celebration, showcasing the spa's best prices of the year! Enjoy hors d'oeuvres and sparkling wine, gifts and giveaways, plus feature demos on new products and services! Here is a look at some of our spectacular Grand Celebration specials:
CoolSculpting [50% off packages of 8+, or 30% off packages of 4+]
CoolTone [50% off packages of 4+]
Filler [buy one syringe, get the second 50% off]
Xeomin [$8 per unit]
Facials [50% off]
Massage [50% off ]
Reflexology [50% off ]
Laser Hair Removal [50% off packages of 8+]
IPL & Erbium [30% off]
Tattoo Removal [50% off packages of 8+]
BioTE [10% off initial and repeat pellets]
Celluma Light Therapy [50% off packages of 6+]
ProLon Fast-Mimicking Diet [buy one box, get the second 10% off]
RSVP IS A MUST
In preparation for a COVID-19-sensitive event, we are requesting RSVPs to ensure the health and safety of all event guests. Please call 423.509.5630 to reserve your preferred time for $50 and receive a complimentary $100 gift certificate to use at the event.